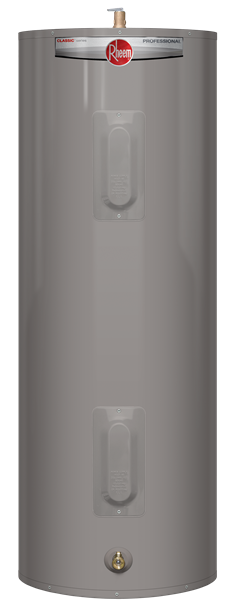 1
BUYING A WATER HEATER OF THE PROFESSIONAL SERIE
STANDARD ELECTRIC MODEL Includes: our professional installation and the best guarantee for our customers ! L'EAU PRO presents you the Professional serie of electric water heaters. The efficiency you deserve, the reliability you expect and substantial energy savings!  
The electric water heaters energy efficient Rheem will give you more hot water at lower costs
The secret to a long tank life: R-Tech patented anode
Patented LifeguardTM elements that are both efficient and durable
The self-cleaning system EverKleenTM prevents accumulation of sediments with a broadband spiral water jet
Rheemglas porcelain tank strong and durable. Rheem Exclusive !
Available in 40 and 60 gallons
Electrical junction box located above the heating elements for easy installation
Overheating protector turns off power in case of high temperatures
The automatic thermostat keeps the water at the desired temperature
(For other applications, other models are available, please contact us for more information.)
3
PROFESSIONAL SERIE WARRANTY
Tank : 6 years
Electrical elements, thermostats and parts : 6 years
Labor : 1 year
.85 – .93 EF
Insulated tank reduces heat loss by conduction
Stainless steel lower heating elements
FHR: 42 - 99 gallons, depending on abilities
Recovery rate: 21 gallons at 90 degrees Fahrenheit rise
6
SENTINEL SYSTEM (AVAILABLE ON SOME MODELS)
Exclusive diagnostic system with LED lights that check the operation of the heating element. LED lights indicate the exact location of the heating elements, whether they are working or not.
Engineered materials for improved service life - stainless steel heaters, premium grade anode
Exclusive Rheem R-Tech anode provides long-lasting reservoir protection
EverKleen self-cleaning device fights accumulated sediment with a high-speed water jet - improves operational efficiency by saving energy, money and improving shelf life of life of the tank.
Brass drain valve, improved flow
Temperature and pressure valve included
Conforming lower elements
Standard Electric Water Heater available in Canada only
9
CERTIFICATIONS AND QUALIFICATIONS
&nbsp &nbsp &nbsp
&nbsp &nbsp &nbsp